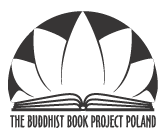 1. Collecting the world literature on Buddhism, including original texts and scholarly works.
2. Creation of an information centre, which will present world's accomplishments in the area of Buddhist studies. This will be accomplished through internet website www.bbpp.eu.org where we provide information about publishing activities, research, and collections of other libraries.
3. Developing activities promoting the project, the book collection, and the philosophy of Buddhism. This goal will be achived through organizing conferences, lectures, exhibitions and publishing activities.
The official inauguration of the project took place in May 2000. It was attended by His Holiness Tenzin Gyatso, the XIVth Dalai Lama of Tibet. In his inauguration speech he said: "I am extremely happy, that this priceless ancient Wisdom finds its home in this magnificent, modern library in Poland." During the inauguration His Holiness donated two sutras: 'The Diamond Cutter Sutra' and 'The Sutra of the Perfection of Wisdom in Eight Thousand Verses'. We hope that this gave birth to the largest Buddhist book collection in Europe. Due to project's dynamic developments we created the Department of Buddhist Studies. This department will collect and make available to the public books from the Buddhist collection.
In the context of European integration, initiatives that tend to increase knowledge of other cultures can be considered a measure of maturity of a democratic society. Szczecin City and the Pomeranian Library have a chance to play an active role in this process.
The book collection is intended to be used by foreign readers also. Geographical location of Szczecin City makes it easily accessable for guests from abroad. This unique book collection creates opportunity for Szczecin City to become a significant European centre of Buddhist studies and research.